#13; INTERNATIONAL JOURNAL OF COMPUTERS COMMUNICATIONS & CONTROL (IJCCC) Dear Acad. Florin Gheorghe Filip, Dear Members of Editorial Board... read more

#13; Celebrating 90th birthday of Dr.H.C. Lotfi A. Zadeh at "Aurel Vlaicu" University of Arad   Lotfi A. Zadeh , born on February 4, 1921, is a famous... read more
Professor Ioan DZIŢAC, Ph.D.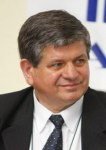 Personal data: 
Family name/ Birth name: DZIŢAC IOAN
Date and place of birth: 14.02.1953, Poienile de sub Munte, Maramureş, Romania
Civil status: Married with Simona
Personal address: Oradea, Grigore Ureche, 19,  E-mail: ioan@dzitac.ro
Academic studies: Mathematics (UBB Cluj Napoca, 1977)
Scientific title: Doctor (Ph.D.) in Information Sciences (UBB Cluj Napoca, 2002)
Didactic grade: Professor (UAV Arad, 2009)
Personal webpage: www.dzitac.ro/en/ioan
Actual academic positions:   
Institutional address 1:
Universitatea "Aurel Vlaicu" din Arad, Facultatea de Ştiinţe Exacte
Departamentul de Matematică-Informatică
Complex M, str. Elena Drăgoi, Nr. 2, Cabinet 81, Tel. 0257-219000.
Email: ioan.dzitac@ uav.ro
Institutional address 2
Agora University of  Oradea, Romania
410526 Oradea, Piaţa Tineretului, Nr.8 
Tel: +40 259 427 398, +40 259 472 513, Fax:+40 259 434 925
Tel./Fax: +40 359 101 032, Mobile: +40 722 562 053
Email: rector@ univagora.ro
Awards (a selection):
Teaching (Bachelor 2013-2014):
Computational Logic
Artificial Intelligence
Distributed systems
Teaching (Master 2013-2014):
Integrated Information Systems (ERP)
Distributed Systems in Internet
School of Management, University of Chinese Academy of Sciences, Beijing, China 
School of Business Administration, Southwestern University of Finance and Economics, Chengdu, China
Organizer and Chair of a Special Session at ITQM 2013:
  May 16-18, 2013 , World Dushulake  Hotel , Suzhou, China
Organizer and Chair of a Special Session at ITQM 2014:
  June 3-5, 2014 , Moscow , Russia
Awards (a selection):
Senior Member IEEE Plaque, 2011
Excellency Diploma 2010
Professor of the Year 2008
Popularity Award 2006
Professional membership:
Senior Member of IEEE:
ROMAI: Societatea Română de Matematică Aplicată si Industrială (Vice - President)
Member in International Advisory Board of Kalasalingam University, India: html
Editorial membership:
Recognitions:
Scientific activities /Publications and Citations